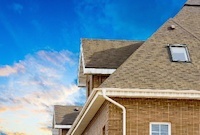 As the summer begins to conclude, the kids go back to school, and the weather begins to cool down you must wonder "How can I better care for my roof this year?" Your roof is designed to protect your CT home from anything that Mother Nature can throw at it. The fall does not seem to prove a threat to your roof but is a very deceptive season and can result in massive water damage if you don't properly prepare. In the winter, record low temperatures and high snowfall create ice dams that destroy your shingles, gutters, and insulation if not properly addressed. Here are a few things that can be done to help your roof perform at its absolute best.
Are Your Gutters Protecting Your Home?
Your gutters are a line of defense that your home needs to collect water and direct it away from your home. Your gutters are vulnerable part of your roof since they catch everything that falls from it. During the fall when leaves are whipped about in the wind they often land in your gutters causing clogs and water to overflow in between your roof and siding.

Also, in the winter when ice builds up and can tear them from your roof damaging your siding, and what lies below. An inexpensive and effective way to protect your roof while directing water into your gutters and debris away from them is to install gutter guards.
Gutter guards prevent debris from the roof and overhanging trees from falling into your gutters. With gutter covers, debris from the roof and overhanging trees can't slide or float into your gutters. Instead, debris will be repelled by the gutter covers and fall harmlessly to the ground. You won't have to worry about those nasty leaf clogs again. There are additional benefits that gutter covers provide during the winter as well: They keep snow from filling your gutters and help prevent ice dams and icicles from forming.
Heated Wires
As sad as it may be, the winter will be here before you know it and preparations should be made before the cold weather comes. One of the best ways to prevent ice damns is to place heated wires on your roof and in your gutters to keep the ice dams from destroying your roof. These wires will create channels for the water to drain through so that it doesn't pool and flow into you house and ultimately celling and walls. Heated wire installation is not a DIY project, so make sure you contact your residential roofing professionals to discuss options.
Connecticut Roof Replacement
One of the best options that you have to protect your home is to have your roof replaced. After years of damage your roofs shingles can become brittle and more susceptible ice forming under them. With a new Connecticut roof, you direct rainfall and runoff better and greatly reduce your chances of experiencing any water damage. Also rebuilding will increase the value of your home while also improving its look.
The fall and winter are the seasons that test your roof the most, so by preparing and frequently checking your roof and gutters you can decrease your chances of any roof damage. If you need your roof replaced then contact Built Right Home Solutions for a quote on your roof replacement.